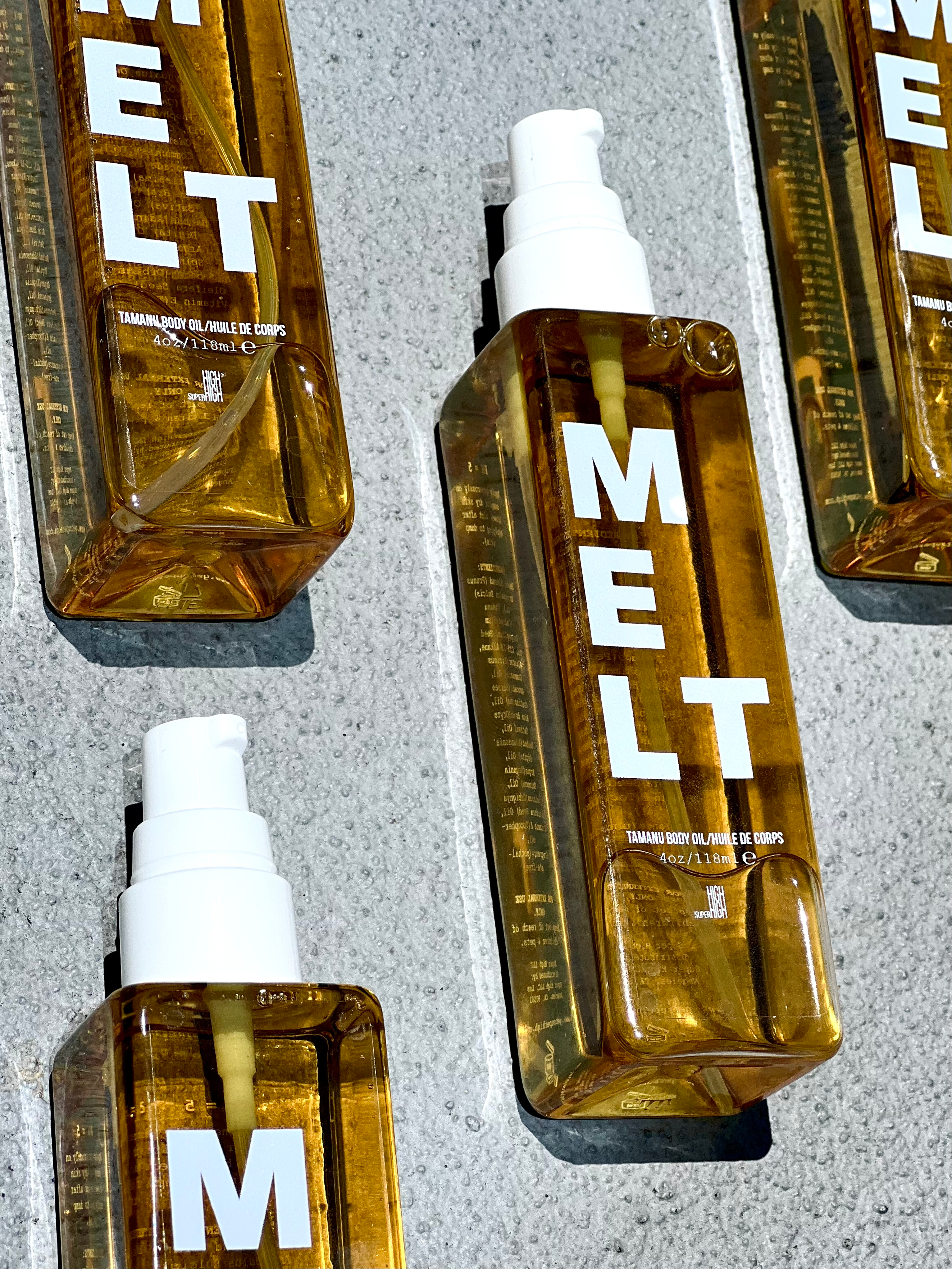 Enjoy an in-shower body experience with our MELT Body Oil. Let the alluring scent of our Tahitian Sunset fragrance melt all of your troubles away.
MELT is crafted with tamanu oil-nature's wonder oil extracted from the Tamanu Nut tree.
Key Benefits of Tamanu Oil:
Helps stimulate collagen production.
Rich in antioxidants that protect skin from environmental damage and free radicals.
Powererful anti-inflammatory properties makes it ideal for people with eczema and psoriasis.
Rich in fatty acids that help nourish the skin and protect the skin barrier.
Other Benefits of MELT: 
- Babassu & Baobab oil are rich in omega fatty acids and have excellent moisture-sealing capabilities.
- Castor oil is high in fatty acids, which protects the skin from sun damage. 
- Rice bran oil is packed with Vitamin E and can protect skin from UVA and UVB rays.
-Tahitian Sunset fragrance has notes of Mango & Gardenia blended with Oud & Amber that creates a tropical allure
- 4oz recyclable plastic bottle.
-Silicone-free
-Paraben-free
-Phthalate-free
-Non-comedogenic
 ••SPECIAL OFFER-Get a free Dime Bag travel pack ($10 value) with the purchase of MELT (add Dime Bag to your cart)
Directions
Apply generously on damp or dry skin(towel blot after applying on damp skin).  Can also be mixed in the palm of your hand with your favorite body lotion or cream and rubbed on your body to give you extra moisturizing benefits.
Ingredients
Sweet Almond(Prunus Amygdala's Dulcis) Oil, Tamanu(Calophyllum Inoohyllum) Seed Oil, C15-19 Alkane, Castor(Ricinus Commuis) Oil, Avocado(Persia Gratissima) Oil, Rice Bran(Oryza Sativa) Oil, Baobab(Adansonia Digital) Oil, Argan(Argania Spinosa) Oil, Babassu(Orbignya Oleifera Seed) Oil, Vitamin E(Tocopherol), Fragrance(phthalate-free)
FOR EXTERNAL USE ONLY. Keep out of reach of children & pets. Contains nut oils.
CUSTOMER CARE
Product Information
Detailed descriptions for each product are provided on our product pages. For any additional questions relating to a product, please email info@getsuperhigh.com
Customer Care
For any questions or concerns, please email us at info@getsuperhigh.com. All customer care inquiries are processed within 24-48 hours. Customer Care is open Mon.-Fri., 9am-5pm PST